Ripple is notoriously secretive about its revenue model. Many suspect that the only way it makes money is by selling its stash of XRP coins. The company never bothered to dispell this suspicion. In fact, it never even revealed how much its products and services cost.
When asked about Ripple's revenue model by Fortune's Jeff Roberts, Brad Garlinghouse, the company's CEO, famously stated:
"Suffice to say we're cash flow positive and that give us the ability to invest in a way that's good for the ecosytem and our company. Absolutely, we harvest some of the XRP. It's very important for us to be very transparent in XRP markets so every quarter we publish a report that specifies how much we sold in the open market and to institutional buyers.

No, we wouldn't be cash-flow positive without the XRP sales. It goes back to the fact XRP is a strategic weapon to invest in the ecosystem. It gives us flexibility to hire the best engineers in the world and to invest in the platform and the technology".

Brad Garlinghouse, Ripple Labs' CEO
Ripple's main selling point is that its products reduce transaction costs. Its "Solutions Overview" brochure mentions "cost" 30 times. Yet nowhere does the company say how much its products cost themselves. Which is absurd - how can I evaluate the cost savings, if I don't know how much I'm going to spend on the product itself?
The only occurence of Ripple discussing the costs of integrating its solution was on a presentation dated February, 2016, titled "The Cost-Cutting Case for Banks". In the PDF, Ripple states that:
"[a theoretical client] can assume a conservative, estimated $10 million one-time cost of deploying Ripple.

[This] cost estimate includes vendor costs from Ripple and the bank's internal deployment costs."

Ripple
Ripple doesn't explicit how much of the $10 million would go to it's own coffers for selling the solution. As it turns out, this doesn't matter, because in reality, Ripple would pay the $10 million, plus some.
Ripple's many incentive programs
If you ever happened to look at one of Ripple's quarterly "Market Reports" (like this one), you might have noticed a paragraph that says something like that:
Three billion XRP was released out of escrow (one billion in January, February and March). However, 2.7 billion XRP was put back into new escrow contracts — 900 million in months 56, 57 and 58. The remaining 300 million XRP are being used in a variety of ways to help invest in the XRP ecosystem.

Q1 2018 XRP Markets Report, ripple.com
Every quarter, Ripple takes some XRP it has in escrow, sells a part of it, keeps another part, and uses these XRPs and dollars to pay its employees, rent, expenses, and a whole lot of other things it barely talks about.
The amounts involved are huge: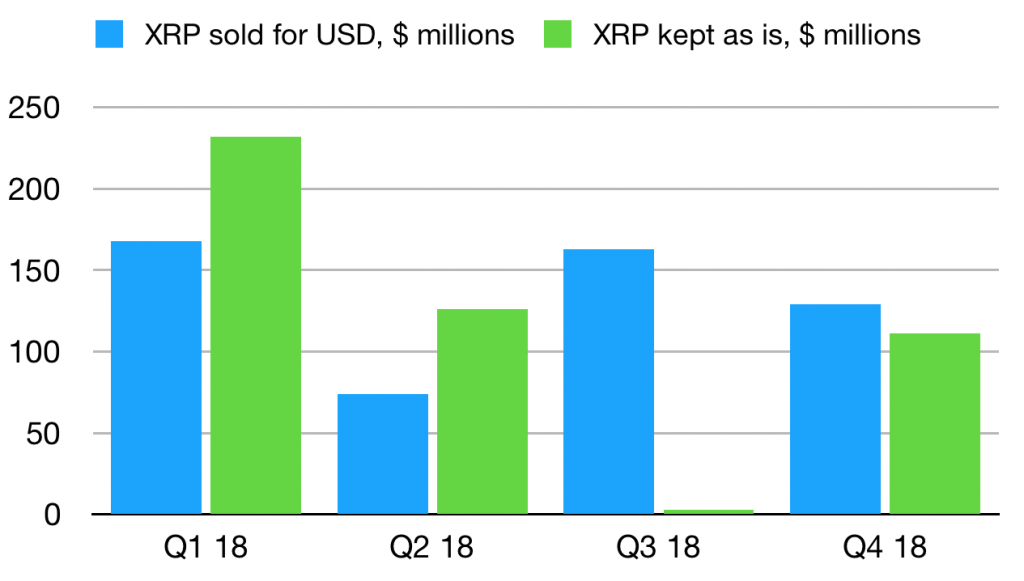 We're talking about over a billion dollars' worth of XRP and hard currency for 2018 alone. The company has between 300 and 400 employees, so there's no way it all goes up in wages and rents.
Direct incentives
A clue as to what Ripple is doing with this "war chest" can be found on the company's own website:
"Building on growing network effects, the RippleNet Accelerator Program is funded by $300 million of XRP from Ripple's XRP holdings. The program consists of a Volume Rebate and an Adoption Marketing Incentive."

ripple.com
Ripple's Volume Rebate incentive covers anywhere between 50 to 300 percent of their clients' integration fees and first year's license fees, depending on the volume of transactions reached:
"The Volume Rebate provides license and integration-fee rebates to RippleNet members once they've reached integration and volume milestones by certain deadlines. Depending on the volume processed, these rebates can cover anywhere between 50 to 300 percent of the integration fees and first year's license fees".

ripple.com
Ripple's Adoption Marketing incentive covers their clients' marketing spend when they promote Ripple-powered products and services to their end-customers, using Ripple's own marketing material:
"The Adoption Marketing Incentive will match eligible customers' marketing spend when they promote Ripple-powered products and services to their end-customers. Ripple will support participating customers' marketing efforts with tailored marketing content, messaging frameworks and tools, further reducing their marketing costs".

ripple.com
Both these incentives are "available in XRP or USD", and have been announced back in October 2017. Basically, Ripple is paying its clients to use its products, and then pays them again to talk about how they're using its products. Notice how the rewards can exceed the initial costs by up to 200%. Although, given the lack of transparency on Ripple's financial dealings, one could assume the rewards can be even higher.
Indirect incentives
Ripple prides itself on being cost-effective. It claims that its transactions are basically free (source):
"RippleNet offered an easy, integrated solution to get this going: a great way to instantly make hassle-free international payouts in different markets across Latin America and Asia, and offer low-cost transfer rates — rates that are 98% cheaper than traditional bank payment methods."

ripple.com
How can Ripple manage to provide virtually free transactions, when every transaction involves two market makers who need to be rewarded, and requires to pay a whole bid-ask spread on XRP coins? Simple: Ripple pays off everyone involved: exchanges, market makers, and customers themselves.
Notice that all 3 different types of xRapid participants are covered by Ripple's XRP incentives

⓵ Fee Rebates : xRapid Exchange subsidy
⓶ Volume Incentive : xRapid Market Maker
⓷ Spread Rebate : xRapid Customer

This isn't possible without large holding to bootstrap ecosystem https://t.co/kyKylkvQg7

— Dr. T (@XRPTrump) 22 September 2018
Ripple's real business model
If Ripple doesn't want to explicit its revenue breakdown between XRP sales and licensing fees, it's because it has no licensing fees. Instead, it uses the proceeds of its XRP sales to pay off its partners and intermediaries every step of the way, from installing its software, to making transactions, to telling everyone that they're using Ripple.
The whole scheme looks a lot like this:
How long can this last?