A couple of weeks ago, I became the target of an online propaganda group defending the interests of Ripple, called the XRP Army. After studying their Twitter activity, I figured out their tactics, and came up with a way to identify the group's members. Then, I applied my process to other online groups. This is what I've learned about online propaganda groups (OPGs).
Lately, mentions of propaganda on social media has been mostly linked to election tampering, and the Kremlin web brigades. However, online propaganda groups (OPGs) aren't necessarily politically motivated, nor are they created by a central authority. Instead, they may emerge without any central coordination, as has happened during the Gamergate. Individuals who have never met each other in real life, can spontaneously form self-motivated groups of activists, and act together.
Twitter in particular, with its open platform, enables the members of such groups to follow (and follow up on) each other's actions, in something that ends up looking like a coordinated attack.
Let's dive into one particular case study:
Crypto shills turn into hounds
Twitter's open platform made it the social network of choice for promoting cryptocurrencies. Every coin has its own community, whose members praise the supposed qualities of their coin, and trash the obvious shortcomings of everyone else's coins. A common financial motivation incentivises the members of each community to stick together, and support one another.
Following the great crypto crash of 2018, human nature being what it is, these communities witnessed the emergence of aggressive sub-groups, eager to attack anyone who might criticise their beloved coin. Just have a look at the Twitter feeds of Nouriel Roubini, Frances Coppola, or Izabella Kaminska.
After being myself attacked by an aggressive group of Ripple supporters who like to call themselves the "XRP Army", I pieced together a quick and dirty algorithm to crawl Twitter, and identified its members:
"Combining these social weapons together, the #XRPArmy will simply burry its target under an avalanche of biased and false statements, insults and threats, making up for what it lacks in brains with volume."https://t.co/6niY7c9pqu

— Trolly McTrollface (@Tr0llyTr0llFace) February 6, 2019
Then, I tried to use this exact same algorithm to dig deeper, and research other groups as well. The result of this investigation is a model of OPG modus operandi.
Identifying the members of an online propaganda group
Not every person who has invested in the XRP coin, and who expresses his/her support for Ripple, is a member of the XRP Army. Most people who post on Twitter do so for genuine reasons, and don't think much of the consequences. OPGs, on the other hand, orchestrate their activity with the objective of artificially altering other peoples' opinion around a specific issue.
The relationship between the members of an OPG is built around two core characteristics.
Wolf-pack behaviour
Members of an OPG never attack alone. They move in on their prey in a pack, and attack their target using the following tools:
biased arguments
taking the original statement out of context
ad hominem attacks, example: questioning the author's credentials
generic insults
threats
They almost never initiate a discussion, but rather elect to leech onto an original post, and bury it under negative replies. If the author ventures to defend his/her post, OPG members will bury every one of the author's replies under ever more attacks, until the author is drowning in a sea of mentions and notifications.
Self-motivating behaviour
Members of an OPG tend to like and share/retweet each other's posts, with three objectives in mind:
encourage one another
build an appearance of credibility to their attack (Twitter's algorithms show the replies with the most likes/retweets first)
spread the word about an ongoing attack to the other members of the OPG (Twitter shows your retweets much more often that replies, in the feeds of people who follow your account)
As we'll see later, these two tasks (attack and motivate) are often performed by different members of an OPG. Likes and retweets can easily be produced by bots to build credibility, for example. However, content producers might also like and retweet, because they need to spread the word about the ongoing attack.
Crawling Twitter
This whole post in the result of my data-based research into Twitter user behaviour. I elected to look into four crypto communities, as suggested by those who commented to my original post about the XRP Army: Ripple (again, but with more detail), EOS, TRON, and IOTA.
More information about how I got my data from Twitter can be found on the TrollKill parser status page, including the source code. I had to write my own crawler, because even though I applied for a Twitter Developer API key almost a week ago now, and still haven't heard from them to this day.
After downloading enough data (I noticed that my algorithm started to converge with ~100,000 data points, i.e. retweets, replies, and likes), I applied an unsupervised clustering algorithm that I came up with a few years ago, when I was looking for a way to automatically group together news articles by topic and event.
Grouping soldiers into battalions
Let's start with a little bit of semantics. The Ripple OPG that attacked me had elected to call itself "The XRP Army". So, if a single member of an OPG is a "soldier", my clustering algorithm would group them together into "battalions".
The algorithm works as follows:
Compute the closeness of every pair of accounts in the dataset
Sort the pairs by order of descending closeness
Iterate through the resulting array, grouping together accounts who don't belong to two different clusters already
I used closeness functions that would be specific of OPG behaviour:
The sum of interactions between both accounts (likes, retweets, and replies to one another's posts) - a measure of self-motivating behaviour
The number of times both accounts replied to the same tweet - a measure of wolf-pack behaviour
Every soldier and battalion would exhibit a particular behaviour. Some battalions would be false positives, which would show up in their global behaviour. For example, a battalion who produces a lot of original tweets is not part of an OPG, it's just a group of friends who interact a lot with each other.
You can see the results of the grouping on the TrollKill Clustering Results page.
Field manual for online propaganda groups
Do you want to start an online propaganda group? Learn from experience.
Difference between normal and OPG behaviour
What does an OPG battalion look like? Well, look at this one, courtesy of the TRON coin supporters: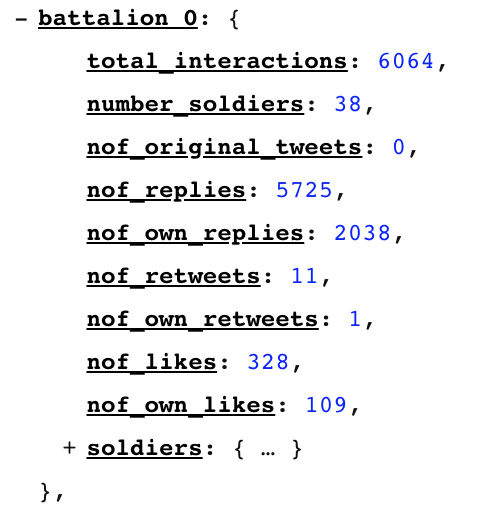 38 accounts, 5725 replies, mostly to their own content, and no original tweets whatsoever. The members of this group are exclusively content creators - they don't engage in self-motivating behaviour, which could be a strong sign of real-world coordination (like in the case of Kremlin trolls).
Compare it to a group with a normal behaviour, again from TRON supporters: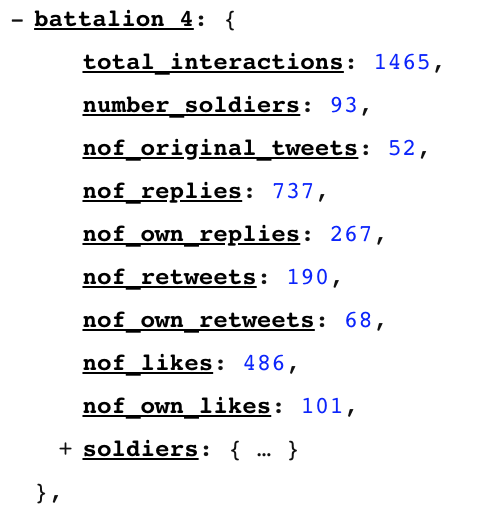 The activity of this group is much better distributed, with three times as many likes as retweets, and eight times more replies than original tweets, indicative of a healthy debate.
Soldier types
An OPG will include different profiles of accounts. People naturally confine themselves to roles where they're most comfortable:
General: posts a lot of replies, doesn't like / retweet much
Messenger: retweets a lot, posts little
Sheep: mostly likes, sometimes replies to posts from other members in the OPG, doesn't seek exposure
The behaviour of members within an OPG will vary wildly, but the OPG as a whole will take what it needs to thrive as a whole from every single member.
Generals tend to be well known by the online community. One doesn't need parsers or clustering algorithms to identify them:
But without their supporting types - the (mostly anonymous) messengers and sheep, they wouldn't amount to much.
The effect of OPGs
In the case of Gamergate, OPG activity resulted in serious psychological harm for their targets, but also in a secularisation of the wider community of gamers.
In the case of cryptocurrencies, OPGs defending their own coins and attacking others, will try to silence critics, and convince unsophisticated investors to buy their coins, or at least not sell them.
OPGs kill debate, and prevent the free-flow of information. These were supposed to be the very things Internet was created for, in the first place.
Battling OPGs is complicated, for they are mostly made up of real people, who don't exactly act against social network Terms of Service. They're simply willing to waste unimaginable amounts of their time polluting and distorting existing conversations, protected by the anonymity of their online accounts.